BADASSERY no.1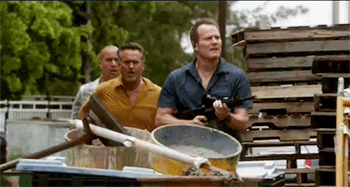 BADASSERY no.2 aka THE BICEP GIF it's my new favorite, try and make me stop watching it, I dare you!
And here's the video of Jack Coleman scenes in "Tipping Point"!
If the video doesn't play, try another browser!
OMG it really looks like he's in this week's episode but I still couldn't find a site with the episode cast list boooo
And and....Wendi's twitter, a few hours ago: GLASSES! :D
AHHHHHHHHHHHHHHHHHHH also biceps!
AND SENATOR BRACKEN WILL BE BACK! IT IS TOTALLY OFFICIAL NOW!
TVLine
:
Beckett's Moby Dick — the slimy Senator Bracken (played by Jack Coleman) — "will come back," says Katic, "though I don't know when, and I don't know how."
AHHHHHH SLIMYYYYYYY :D
I know how! VERY AWESOME AND SEXILY!
This episode UNFFF