- OMG Noah the grandpa brought Tommy to Primatech when he was 7???? I WANT TO SEE THAT. (omg I asked
la_dame_du_lac
about this and this is what she said: "When Luke and his wife attacked him, he sent them to a room in Primatech. It was his old room." omg yes.
- Erica talks about reversal of the poles. And suddenly I make
this
.
- Sure Erica, blame HRG like every one does! D:
- OMG I like how the future looks
- Evil Matt is so evil
- Ugh Erica's mindgames
- I wanna go to Gateway TAKE ME WITH U ERICA.The world sucks now.
- Ugh poor Miko
- HOT HRG
- TOO LATE GINGER. Will he betray Erica too??? I miss the Noah/Quentin bromance so hard
- Miko's father tells Ren to find a time traveler so he can go to the future. Excuse me but when HRG wants to do the time travel, everyone bitches! SO NOT FAIR.
- RIP shapeshifter guy. I didn't even know your name.
- HOT JACK COLEMAN
- OMG Carlos is finally a brave guy YAY
- Ugh poor Micah BAD PARKMAN
- Will Matt withdraw his allegiance to Erica????
- HRG and Malina are separated again. BOOO. WILL HE EVER REUNITE WITH HIS BBS? :(
- Where did Miko and Tommy go????
- So grateful for this show even just for the hotness of HRG and yes Jack Coleman.
- We better have HRG scenes in the next episode OR ELSE.
- FALL FINALE NUUUUUU. 3 episodes left only NUUUUUUUU. 7 week break NUUUUUU. 2016 CAN'T COME SOON ENOUGH. I'll cry once we are done with the show. :((((
- INSIDE THE ECLIPSE:
NO SEXINESS OF JACK COLEMAN THOUGH. I feel like we won't be seeing him in an Inside The Eclipse video again D: I DUNNO.
(
SAVE THE HRG
Collapse
)
- Erica's house is so cool
HRGGGGGGGGGGGs NOOOOOOOOOOOOOOOO omg THEY KIDNAPPED HIM DAYUM
(
BADASSERY
Collapse
)
btw THIS PIC HE TWEETED. BLESS HIS FACE AND JACK COLEMAN'S TOO
(
omfg is this real
Collapse
)
BTW,
CHECK OUT THESE INTERVIEWS!
Clairebeaaaaaar. Everytime he mentions her and how she is still a big part of the story, I CRY A LITTLE.
And this one also. I FOREVER LOVE HIM FOR NOT WANTING A POWER FOR HRG:
"Q: Unlike many of the other core Heroes characters, Noah has never had a special power. Do you feel left out?
JACK COLEMAN: Never. It's one of my favorite things about HRG. He has to rely on his wits and skills and can't just blast a force field to knock somebody off their feet. I'd hate to have the producers call me into a meeting and say, "OK, HRG has powers now. He can turn water into wine." I love that he can handle himself in a world where he's outgunned."
OMG stills and the promo!!!!!
Jack Coleman was at the Voice!!!! And he got a nod from Carson Daly! I never watched this show but thanks to him now I......well, still haven't watched it! But I found the part where he showed up YAY! And Beth too! :D
- I hate Luke for hating tomatoes. GO TO HELL LUKE. Tomatoes are awesome, OK???
- I think I love Sunstone Manor. It looks like a cool place!
- The Haitian is alive! :D
- I still have no idea why The Haitian was trying to kill his bestie in the first episode! D:
- Micah is the leader!
- OMG Quentin stop acting like a dark jerk
- Caspaaaaaaaar NOOOOOOOOOOO
- Tommy, you suck for not stopping time in time! D:
- MICAH IS MISSING
- Dearing NOOOOOOOOOO
- OMG evil Matt Parkman is so evil and I like ittttt
- Ugh war scene.
- QUENTIN IS THE BUTTERFLY. EVIL GINGER D:
- OMG apparently Erica killed that deer for Tommy! D:
- Noooooo Tommy! Will he become evil too???
- Ohhhhhhhhhhhhhhh Miko is 7957 years in the future??????? WHAT IS GOING ON
- OMG Inside The Eclipse doesn't have Jack Coleman! D: I'll still link it when it become available on YouTube.
(
HUGGING
Collapse
)
- NOT THE DEER! D:
We'll start with Teddy <3 Ugh I love his tweets
(
MANY MANY MORE
Collapse
)
ALSO ALSO! THE PROMO OF TONIGHT'S EPISODE
ugh I totally didn't have time to post these until now!
- Yay another HRG heavy episode.
- Mohindar and his research team (aka Team!Momo) are all dead. :( THERE GOES HIS RESEARCH. This show is killing the originals one by one. I AM NOT A FAN OF THIS.
- Angela says "The boy is a Petrelli". That was confusing because, the girl isn't?
- omg filthy baby, sucking powers UGHHHH I want to hate him for killing Clairebear BAD BABY BAD
- LOOOL Hiro and the baby so CUTE
- JACK COLEMAN maaaan
his sexiness is too much to bear. Did you see what I did there?
- omg the girl is lucky 'coz she's going to a château in freaking Geneva while Tommy will be staying in lame Odessa and and you're too lucky too,
la_dame_du_lac
- Carlos is no hero D:
- The world needs a buddy cop show with two HRGs
- I have a feeling Caspar is his best partner so far D:
- GO FARAH
- But seriously, HRG. I want to watch him forever
- Erica still plotting in her hospital bed while getting all giggly inside when thinking about two Noah Bennets.
WHO CAN BLAME HER REALLY.
- According to Angela, Noah is an old wolf wearing a crown of thorns. NOPE MORE LIKE A BEAR.
- Ummmmmm why can't Nathan/Tommy take Hiro too with them and save him? I mean we know Harris is indestructible, WHY NATHAN/TOMMY WHY.
- Ugh Quentin. WELCOME TO THE DARK SIDE.
- INSIDE THE ECLIPSE!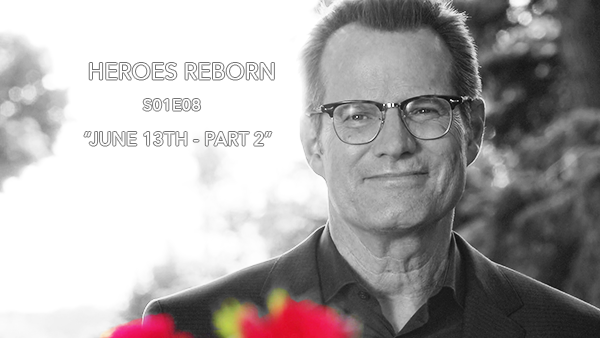 (
Noah is my everything
Collapse
)
- Erica says "Mohindar" HAHA
(
<3 <3 <3
Collapse
)
(
<3 <3 <3
Collapse
)
There is a new audio interview!
(I bet I am missing interviews I HOPE I AM NOT)
I love that he said he'd have liked to revisit his characters on Scandal and The Office!!! GOOD ONES. <3 And
la_dame_du_lac
guessed them right omfg. I can say his most tame character was his Burn Notice one and the most scandalous is....haha. STILL BITTER ABOUT SCANDAL TBH. And he knows how awesome it could have been if he stayed around longer. UGH SUCKY WRITERS SUCK IT! STOP KILLING HIS SEXY AWESOME CLOSETED CHARACTERS.
I need these comics in my life, well at least this cover XD
(
<3 <3 <3
Collapse
)
Btw another scandalous thing which requires CAPSLOCK MODE ON: NO HRG STILLS FROM NEXT WEEK'S EPISODE. PFFFFFF NOT COOL.
Clairebear though :(
EEEEEP
WATCH HIS AWESOME KTLA INTERVIEW HERE
LOOOOL but we love those close-ups and angles and his jowl omfgggggg
So funny how he rants about the scene they showed. TOO CUTE. :D
Ugh though, HRG's not going to be saving his "deceased daughter" D:
There is another interview:
(
AUDIO
Collapse
)
also......
THE SNEAK PEEK! THE MATT/HRG SCENE!!!! - LOOK AT HIS FAAAACE!!!!!!
THIS INTERVIEW ALSO OMFGGGGG
Excerpts:
Qestion: You guys all worked together on the original series for four years. Have you all see each other and hung out in the time since or is the first time a lot of you guys are seeing each other again?
JC: Remarkably, of all the shows I've done, I've remained friends with more of the people from "Heroes" than any other show I've ever done. I see Adrian all the time. I see Jimmy Jean-Louis all the time. I see Grunny occasionally. I see Sendhil occasionally, but I talk to him all the time. I stay in touch with Hayden and saw her a couple of weeks ago. Milo from time to time. It's actually been quite remarkable how these friendships have endured and how these bonds have held.
AHHHHHHHHHHHHHHH he should tweet pics when he sees Hayden! D:
Question: Looking at this cast, age-wise it seems to be a little more diverse than the original cast. In the original series, Noah Gray-Cabey was very young but everyone else seemed around the same age. Now it seems a little more mixed.

JC: Yeah. That's kind of a nice way of saying that I've gotten older and they've all gotten younger. [Laughs] Other than Cristine Rose, and Rya Kihlstedt to an extent, but Rya is still quite a bit younger than me, everyone is way younger. There's a lot of teenagers on this show. Robbie just turned 20, but Danika is 17, Gatlin is 18.
LOOOOOOL
He drew Robbie Kay a bath and tried to drown him in it! And the part about Danika Yarosh, TEARS. Also awwww he misses home and his family! Argh there are so many awesome things in this interview! GRANDPA
Question: That all said, though, would you come back?
JC: Sure. I don't see why not. It would be interesting to see if I came back in the same capacity. I imagine I'd come back in a somewhat different capacity. But I'm definitely game to come back.
PLZ GODS PLZ
- Clairebear wanted to see her daddddy. AHHHHH thinkingabout this makes me even sadder. "LOOK DADDY I AM PREGNANT. The dad is in a safe place where you can't get to him" AAAAAHHHHH
- It's a miracle I didn't explode while watching this episode. TOO MANY NOAHS TOO MUCH SEXINESS.
- Mohinderrrrr. What are you doing it the middle of nowhere and why couldn't Angela and you find a better meeting spot?
- It is no longer his father's research. It is HIS research now.
- LOL Molinder didn't know that Primatech is Renautas now? REALLY? After all the things he went through???
- I giggle every time I hear someone in this show talk about earth's magnetic poles reversing. I know Mr Coleman told us to ignore his past, BUT IMPOSSIBLE TO UNSEE IT.
- Angela, I thought you were smarter than this! How could you believe Erica??? On a second thought, perhaps you're not THAT smart. We all know what you did regarding Nathan and Sylar….
- "Making darkness" is hard treacherous work.
- So this is how Hiro gets trapped in the game! Fun fact: Masi Oka owns a game company haha
- This episode...How can I dislike it srsly. Two Noahs in many scenes.
- Kriiiiiiiiiiiiiiiiiiiiiiiing
- OMG Mohinder's research team RIP
- ugh crying still because because I hate that Clairebear died during childbirth (because WTF HOW COME) but I loved the episode, it was very entertaining and exciting and omfggggggg Mr Coleman was seriously amazing in every scene, both the badass and the emotional ones.
-
OKAY THE MAN SAID THIS
. I love him seriously but we'll see…
-
This review actually says everything I want to say about his awesomeness, in better wording.
- OMG Noah didn't Noah lift the sheet….Wouldn't he want to know if Clairebear is really, REALLY dead? He even told the doctor to check the back of her head! What is going on! Why didn't he uncover her face ??? This is what a "normal" person would do, let alone Noah who's all about his Clairebear OMFG
- Plus, the security footage from the past episodes showed us that he actually DID look under the sheet! WHAT IS GOING ON HERE.
- OMG too many butterflies. I hate u Hiro D:
- So if Molly can't find dead people…..how did she find dead Clairebear? D:
- I can't decide which one is hotter: past!Noah or future!Noah.
- Noah doesn't even ask this: "WHO'S THE GODDAMN FATHER???" WTF NOAH.
- And why can't he travel back in time to make sure Clairebear doesn't get pregnant? You know, he can totally kill the jerk who impregnated his Clairebear. FORGET THE BOMBS. This issue is more important…
- OMG the babies' names...Nathan after Nathan Petrelli and Malina after Noah's mother! Wait, wasn't Noah's mother's name something else?
- Hmmm it seems like Erica does not know what happened to Clairebear.
- AHHHH two Noaaaaahs.
- INSIDE THE ECLIPSE:
WHAT HE SAID ABOUT THAT SCENE IN THE HOSPITAL OMFG. <3 He thought about all the Clairebear stuff and Hayden, the 4 years he worked with her omfg. WEEPING BRB
LOOOOL pay attention to the pic below hahaha SEEEEE???????? AHHHHHHHHH
(
Your computers will break
Collapse
)
- Normally I should have hated this episode but that's not even remotely possible