Doctor Strange is back! Dormammu is back! #ishipit
This time on "
Marvel's Avengers Assemble
"! Hey, Jack Coleman and Adrian Pasdar were in the same episode! :D
Doctor Strange scenes:
Ugh I can't believe I almost missed this one too, it aired like 2 weeks ago omfg D:
Naughty....
And I have actually googled for it a few months ago! *GASP*
Jack Coleman on Late Night With David Letterman!!!
According to this
, it aired on May 21, 1986 on NBC!
The episode summary:
Before each segment throughout the show, Morgan Brittany from "Dallas" and Jack Coleman from "Dynasty" offer color commentary. Meanwhile, Chris Elliott performs "Hands to the Moon."
So colorful omfggggggg. LOOOL the writers didn't really do a good job (OMG Chris Elliott's homosexual joke, so 80s haha) but omfg he's soooooo effing cute it's not even funny <3
OMG check out 4:55, 8:30, 18:35 and 23:40 for him!!! AHHHHH he's with a make-up artist in 18:35 but omfg she is obviously no Wendi!
Ahhhh I am so happy I came across to this gem. XD And I am sad
this episode
from 2 years before the one we have here is still nowhere to be found. I care because apparently Jack Coleman is in that one too!!!!! *MORE GASPING*
HOW.
tweeted
a #TBT pic:
(
Beardy
Collapse
)
Ugh this is sad but the photo is lovely. <3 I totes recognize the beard! It's the Beneath The Bemuda Triangle aka Time Under Fire beard! So this must be from 1996-1997 or something.
Ugh I am so good. This movie, you guys. One day I'll make a post analyzing it hard.
And this was from
Dania Ramirez
!
(
Sweet
Collapse
)
OMG what a cute awesome perfect lovely and yes, "sweet" pic <3 Ahhhh that shirt! ...Does he still have it??? Also omg I bet Heroes will be at this year's SDCC?
Oh oh oh! I found this
link
Tumblr and according to this, Heroes Reborn is a fall show and the production will begin in April, not March! OMG why don't we have any news about this?
This movie's description wins the internet
gay porn
:
"The Legend Continues... First there was Dynastud. Now history repeats itself with Dynastud 2. In this sizzling sequel, Steven Carrington sinks his fortune into a movie studio and produces a string of unforgettable male epics. Steven goes over the top as he leaves no sexual stone unturned in his quest to make the ultimate flick...and ends up in a futuristic finale unlike anything youve ever witnessed..."
Dynastud is a brilliant name imo. I dig the plot so hard. I'll be a good dref and I'll refrain from linking the movie...
He just
Hey remember the failed pilot, "Salvation"? Totally failed because they keeled him D: OMG OMG
- YAY yet another episode where I paid absolutely no attention to the main plot!
- I love how the promo made him look like he was going to be the bad guy.
- He's so so so cute in this episode. SO CUTE.
- Not enough Jack Coleman yeah. But omg he was <3 in his scenes. FULL PAPA BEAR MODE ACHIEVED.
- Okay the story I cared about:
So Bob Ruzek aka Disco Bob aka Jack Coleman accused his son Adam's sergeant Voight of being a dirty cop during a retirement party and Voight called Bob a "dog cop" and the two haven't been on good terms since. I don't know what "dog cop" means but apparently it's not a good thing.
Disco Bob threatens his son's sergeant Voight because he wants to make sure his Adambear stays on the right path. I still don't know though: Is Voight a dirty cop really?
Disco Bob tells his son Adam that he chose to be the cop because he wanted to coach his son's teams, be home for dinner, be around as a functioning dad. He made the decision to choose his son over his job. <3 And his son learns about all this in the final scene! Stupid son.
- Jack Coleman threatening people in shows. Never fails to make me go UNF.
- OMG most importantly, we still have no idea why his nickname is "Disco Bob". WTF writers? And only one character calls him that! I'm not even sure if that character is a recurring or not. Now we need another Disco Bob episode surely.
- Here, watch his scenes and some in this awesome video edited by me:
And the screencaps of course! :
(
THE CAPS
Collapse
)
- Ugh late post is late again but omg things happened!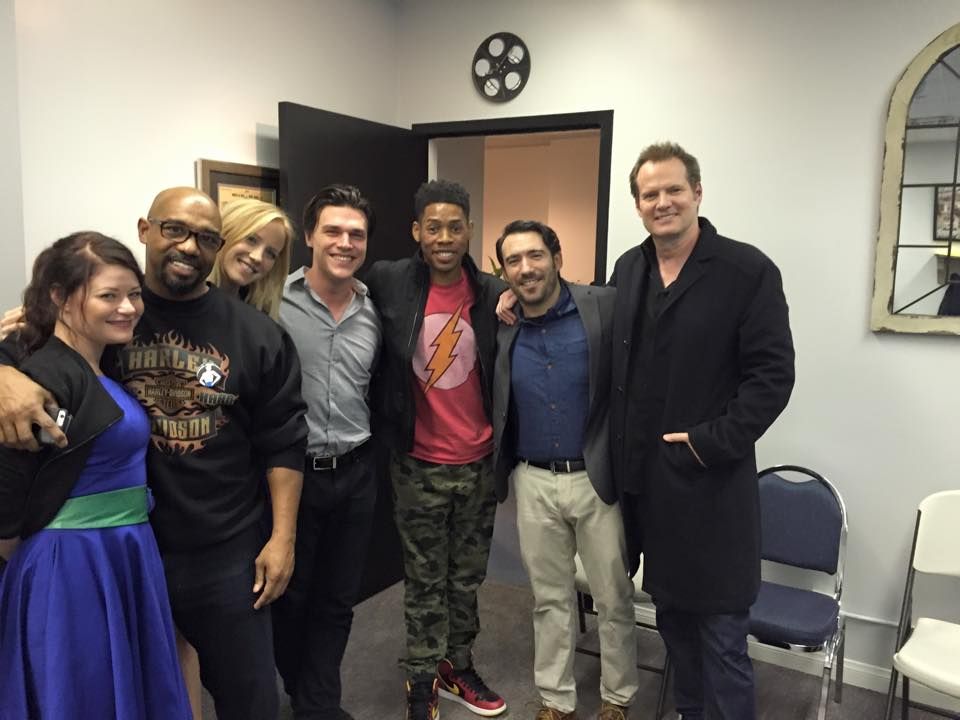 Ahhhh how cute :D Again, the tallest person in the room! :D *swwwooooooons*
(
Is it September already???
Collapse
)
All the pics are from
here
!!!
According to
IMDB
, the USA release date is September 15!!!!!!! OMFGGGG
Finn Wittrock (he was awesome in AHS this season) and Emilie de Ravin were also there!
la_dame_du_lac
beautifully said: "You have HRG karma or Jack karma rather"
AHHHHHHHHHHHHHHHHHH this promo is weird (but verrrry prettah) and I have no clue what's going on apart from the fact that HRG is still so UNFy but I don't care :D He is forever my bespectacled anti-hero <3 <3 <3
Okay let's see....
(
AHHHHHHHHHH
Collapse
)
EXCITED AND PRAYING FOR REASONS.
The promo totally aired on my birthday YES. As